Using Keywords to Organize in Adobe Lightroom
Jun 30, 2015

In a previous blog I outlined how to rename your images and organize them. Please view the blog on file naming if you haven't read through it already, and then come back for this part.
In this blog I hope to show you how using keywords is a flexible and powerful way to categorize your images to make them easier to find in the future. Many photographers I know organize their images into folders: "people," "places," and "things," or "BridesLastNameWeddingAndThenTheDate" this may seem like a logical way to do things, but it leads to clutter and images being misfiled or lost.
Adobe Lightroom has a lot of features many of us will never use. The key to getting the most out of our software and the most out of our valuable time, is to become familiar with the software. The features we use the most become second nature. Keywords are important tools that should become second nature. No organization scheme will work for everyone, we all work differently, find a scheme that works for you, if you run into roadblocks, adjust and move forward. That is what I have done over the years, and I'm trying to share the map of roadblocks I've come across in the hopes of helping someone else along the path.
So what are the advantages of adding keywords to your images?
Do you shoot weddings?
You come back from the wedding, load your images into lightroom, do a quick edit, rank your images and export for proof prints or cd (you are using Lightroom's star system to rank your images correct?).
Keywords can be added to images automatically on import, these keywords will be applied to all the images imported. That is great for general keys that apply to every image, but it is more efficient to keyword the images as you're editing.

In "Grid Mode" (tap the 'G' key) use Control-A (or Command-A in OSX) to select all the images, go to the keyword box and type in your general keywords. I suggest the bride and groom's names, maybe the month and season, "wedding" is a good keyword if you do many types of photography. Tap "Enter" (or 'Return') to apply the keywords to the selected images.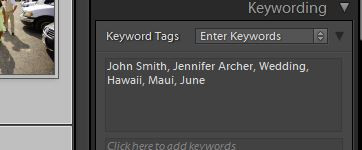 Here I've added the bride and grooms' names, and this entire wedding (ceremony and reception) was shot on Maui in June, so I added those keywords also. That's a good start, and will offer basic coverage, but the REAL power comes with keywording individual images.

Who else is involved in weddings? Designers, Planners, Caterers, Venues, DJs or Bands, Cake Bakers/Decorators… Grab a great shot of the DJ? Throw his or her name on the image as a keyword. Find out who did the cake, keyword your awesome cake images. Saxophone player from the band really rocking out and sweating and you grabbed a dynamic shot of him? Keyword the band photos.

Now you can use those images to cross promote with those other vendors. Keep running into the same DJ at the same weddings? At the end of the year, you go to keyword search, type the DJ's name in and every shot you have of that DJ will come up, you don't have to remember that they did X wedding on Y date….

Highlight the year folder in Lightroom's "Folders" list, go to the "Library Filter," click "text," and type the DJ's name.
Have a family that you photograph regularly for family portraits or whatever? "Tag" them with keywords in each single or group portrait. If you've photographer little Susie since she was born, when she turns 18 all you have to do is highlight your main image folder and again, use the keyword search, type in "Susie Smith" and every image you shot of her over those 18 years will come up… That'd make a great album for her graduation present!

The more keywords you add, the greater the detail you go into, the more powerful your search tools become.

Tri-Color is in New Bedford, MA. It is the largest fishing port in the world (by dollar value) and boats are always coming and going. When I get the time I go down to the waterfront and photograph the boats at the dock, or get shots of the guys waving as the boats leave the harbor. I tag the images with the names of the boats. We lost one a few years ago, the "Lady of Grace" went down and I was able to highlight my "RAW" folder, and use keyword search to bring up every image I'd shot of that particular boat.
I didn't have to dig through folder after folder and then randomly open large raw files hoping to find the right one.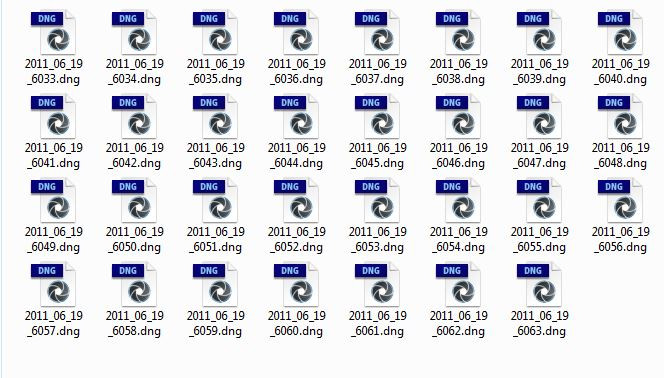 which one of these is the group photo, has all their eyes open and the best smile on the baby?

If you like using folders for "People," "Places," "Things," "Events," etc. you can add THOSE as keyword organizers!
Right click in the "Keyword List" box and select "Create Keyword Tag…"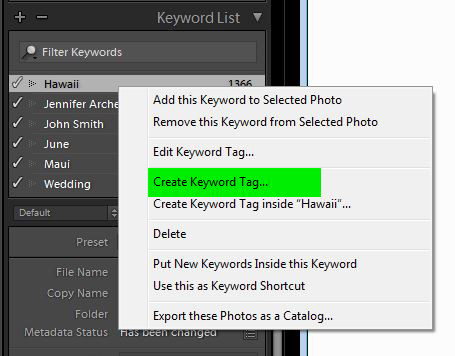 Enter a name for the Keyword Tag, "PEOPLE" in this case. You'll probably want to uncheck "Include on Export" that way when you export your images, you won't have the tag itself added as a keyword. I use all caps to distinguish Keyword Tags from the actual keywords.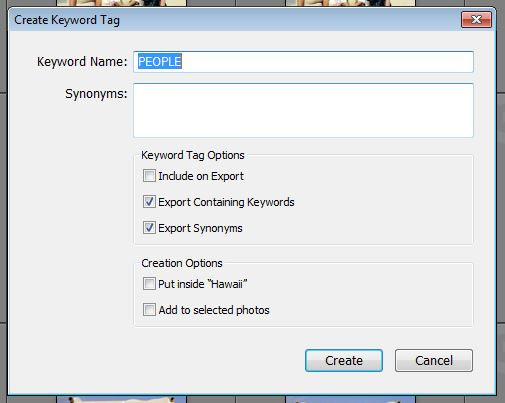 Keyword Tags can be used to organize your keywords, this helps your keyword list to look more organized, and they can help if you want to find a keyword, in a list of thousands.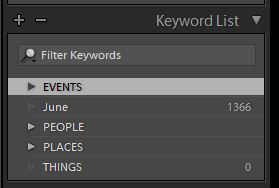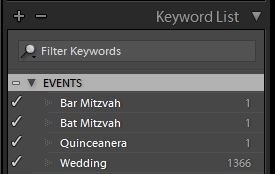 Keywords themselves can have other keywords nested under them. A hierarchy.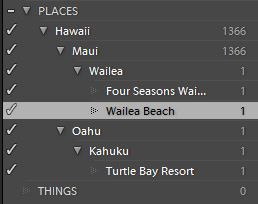 In the example above, adding "Wailea Beach" as a keyword to an image will also add "Wailea," "Maui," and "Hawaii."

What about words with multiple meanings?
Wait….. huh?
What if you have a keyword that can mean multiple things, what do you do then? That nesting, or hierarchical (say that one out loud 5 times fast) organization comes to the rescue here.
Take my bass.

Did I just hand you a guitar or a fish? (send me an email and let me know)
Create "Fish" and "Guitar" keywords, and then create a "Bass" under each of those.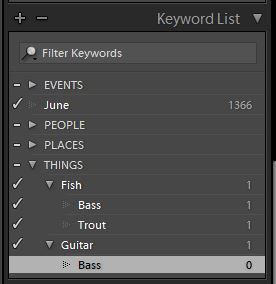 Now, as you're typing in your keywords, an autocomplete box will pop up, and you'll be able to select which Bass you want.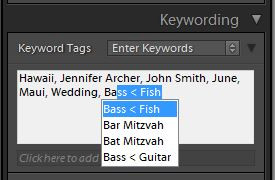 If I go back and remove all the keywords from my test images, I can show you a GREAT and powerful feature of Lightroom: Smart Collections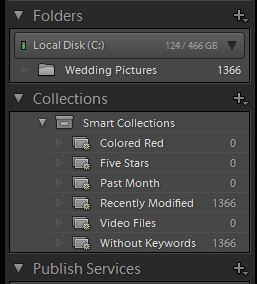 Smart Collections are groups of images that Lightroom automatically maintains for you. Smart Collections are outside the scope of this blog entry (Stay tuned?), but one of the default Smart Collections built in to Lightroom is "Without Keywords."
If you click on that baby, all of your images that aren't keyworded will pop up in the grid. One thing to watch out for, if you add a single keyword and tap enter before adding more keywords, the image disappears, because it is no longer without a keyword. I use the power of Smart Collections and Color Labels to help out here.

I use the "Without Keywords" smart collection to find the images for me, and you see the first entry in that list?





"Colored Red" once i have the keyword-less images in the grid, Control-A (or Command A) to select them all, then right click, choose "set Color Label > Red"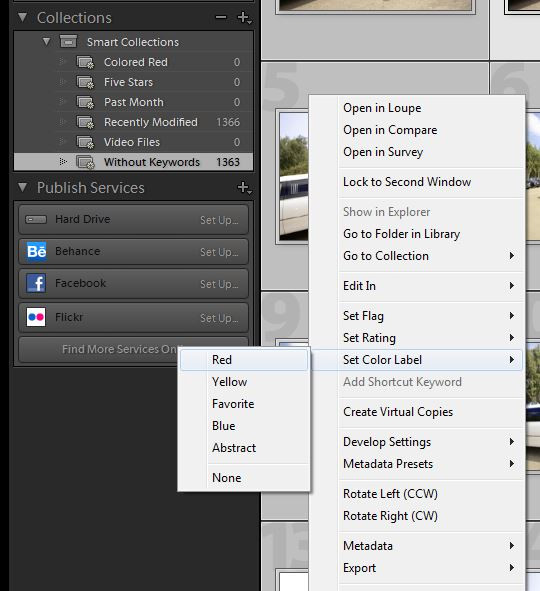 "Red" is a default Smart Collection that comes standard with Lightroom, if you use red for soemthing else, pick another color and set up a Smart Collection for that color.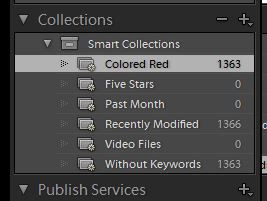 Now those Keyword-less images are labeled Red, i can go through them, keyword them and when i'm done, set the Color Label back to "None"
and work through the backlog or images i may have missed the first time around in my "Free Time."

---